Forum rules
Please start your own topic for support with problems you experience. Even if it appears to be exactly the same as someone else's problem, system configurations differ significantly. Thank you.
It may take our support staff between 24-48 hours to respond to your problem. We are a small business and strive to answer your questions as soon as possible. We appreciate your patience.
---
Maybe Ontrack Easy Recovery Pro could recover your data. The trial version will allow you to see the data is so.
The site is
here
Download the trail and see if it will see the data.
Dogs Have Owners; Cats Have Staff
PROfessional Member
Posts: 8220
Joined: Sat Jun 19, 2004 4:46 pm
Location: Jackson, TN USA
Real Name: Jeff Replogle
---
---
---
---
I think you should do a repair install of XP, ie boot from the CD and continue as if for a clean install, but then when prompted repair your XP ; then install VistaBootPRO and reinstall the Vista Boot environment ; reboot ; I don't think your data is lost
Posts: 9538
Joined: Sun Feb 22, 2004 5:17 pm
Location: Monte-Carlo
Real Name: Julian Lord
---
What would happen if I delete the Vista Boot info within BootPro? Will that frag the whole thing? Or, will it restore the boot info manually entered for XP?
---
When you "uninstall" the Vista bootloader, what actually occurs is this:
Bootsect.exe /nt52 is run which converts the boot manager back to XP (Or earlier boot.ini)

All that is affected is VISTA BOOT FILES, not any of the data, so Vista is STILL installed, just not the bootloader. Should you get your XP fixed, then you can install VistaBootPRO in XP and REINSTALL the Vista bootloader, which runs: Bootsect.exe /nt60 which actually installs the files/folders required by Vista to boot. Also here, this does NOT disable XP from booting, it simply replaces the older boot.ini file for booting Vista; boot.ini IS still used by XP and you simply place the "entry point" to earlier versions of Windows in the Vista bootloader to access these older Windows OS's
---
Good news maybe. I obtained a CEmini boot cd and was able to restore WinXP fully.
Sweet. I gots my data now. But, now I can't see vista at all.
The 50 GB partition, partition 2 is there physically but not in spirit. How can I get both to show up and boot? I ran BootPro and the running XP OS does not show up. Vista (recovered) does. I have a couple of errors with BootPro while running it in XP.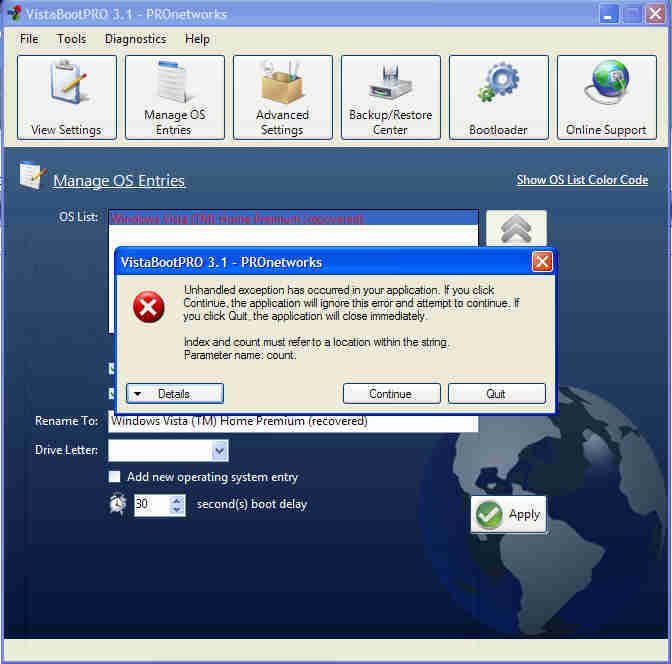 ---
Return to Windows Boot Problems
Who is online
Users browsing this forum: No registered users and 1 guest